Pneumatic Cylinder Pinch Valves, Gujarat, India.
Pneumatic Cylinder Pinch Valves
Pneumatic Cylinder Pinch Valves Machine Preview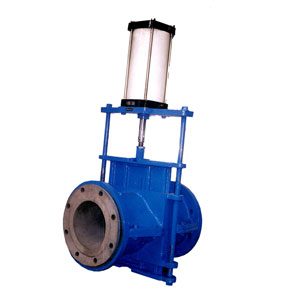 Send Enquiry
WORLD CLASS PINCH VALVES WITH AUTOMIZATION AT YOUR DOOR STEP –
SIZE 15MM TO 400MM –
PRESSURE UPTO 25 BAR – IN CLOSED & OPEN POSITION
CYLINDER OPERATED PINCH VALVES
Option – I 2 P CONVERTOR ALONG WITH POSITIONER- 4 TO 20 MA
MANUAL OVER RIDE
Features
Streamlined centerline closure
Tight shut-off even on trapped solids
Built-in over-pinch protection
High cycle life, repeatable control
Positive opening tabs standard on all sleeves
Full, flat-faced reinforced rubber flanges, eliminates need for gaskets
Face-to-face equal to industry
Standard maintenance-free pneumatic actuator
Available in double-acting, fail-open or fail-closed configurations, these valves can also be fitted with pneumatic or electric actuators and pneumatic or electro-pneumatic position controllers.
A wide range of elastomers are available to suit most service conditions.
APPLICATIONS
Chemicals, Alkaline Mixtures
Acids, Slurries & intermediates, Liquid Foods, Viscous fluids, Sludge's, Granules
Dry Suspension
Powder Collectors
Gases
Pulps
Vacuum
Sewage Plants
Thermal Power Stations Water Containing Ash.
Pharmaceuticals – Picklings
Textiles Industry
Mining & Cement Industry
Acid & Chemical Tankers
Refineries
Fertilizers
Available Material of Construction –
CAST IRON, CAST STEEL – WCB, STAINLESS STEEL, ALLUMINIUM.
Pinch Valve is a completely enclosed, actuated control valve. Its reliable, maintenance-free design is suited for tough slurries, abrasives, corrosive chemical applications, effluent unit.
Shreyas pneumatic Control Pinch Valve is a long-lasting, flexible rubber sleeve, available in a wide variety of elastomers suitable for any application. With its excellent control characteristics, these valves can be used as a throttling control valve.
Top