Pneumatic Cylinder Operated Close Body Pinch Valve, Gujarat, India.
Pneumatic Cylinder Operated Close Body Pinch Valve
Pneumatic Cylinder Operated Close Body Pinch Valve Machine Preview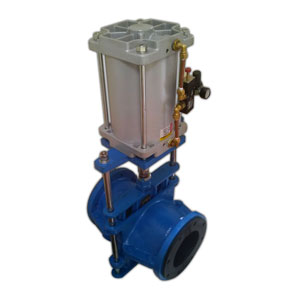 Send Enquiry
Features
Streamlined centerline closure
Tight shut-off even on trapped solids
Built-in over-pinch protection
High cycle life, repeatable control
Positive opening tabs standard on all sleeves
Full, flat-faced reinforced rubber flanges, eliminates need for gaskets
Face-to-face equal to industry
Standard maintenance-free pneumatic actuator
Available in double-acting, fail-open or fail-closed configurations, these valves can also be fitted with pneumatic or electric actuators and pneumatic or electro-pneumatic position controllers.
A wide range of elastomers are available to suit most service conditions.
APPLICATIONS
Chemicals, Alkaline Mixtures
Acids, Slurries & intermediates, Liquid Foods, Viscous fluids, Sludge's, Granules
Dry Suspension
Powder Collectors
Gases
Pulps
Vacuum
Sewage Plants
Thermal Power Stations Water Containing Ash.
Pharmaceuticals – Picklings
Textiles Industry
Mining & Cement Industry
Acid & Chemical Tankers
Refineries
Fertilizers
Available Material of Construction –
CAST IRON, CAST STEEL – WCB, STAINLESS STEEL, ALLUMINIUM.
Pinch Valve is a completely enclosed, actuated control valve. Its reliable, maintenance-free design is suited for tough slurries, abrasives, corrosive chemical applications, effluent unit.
Shreyas pneumatic Control Pinch Valve is a long-lasting, flexible rubber sleeve, available in a wide variety of elastomers suitable for any application. With its excellent control characteristics, these valves can be used as a throttling control valve.
Top